Spring is an ideal time to pay attention to the landscaping around your home. The work you do now has a lasting effect on anyone who views your home from the driveway or curb. Family and neighbors will appreciate the fact that you care about the appearance of your front yard. In addition, if you decide to sell your home, prospective buyers are likely to take a second look. The positive first impression made by an attractive front yard influences how buyers view the property owners. They often think that a person who takes good care of his or her yard will take good care of the rest of the property.
A beginning step in spring landscaping is to clear the entire area of debris. This means picking up trash, removing any dog or cat feces, and raking and bagging dry leaves and grass. It also includes working in the flowerbeds or garden to get rid of all dead leaves and stalks. Be sure to solicit the help of all family members.
Next, look at each tree or shrub to determine what needs to be removed or trimmed. When pruning shrubs, you often can tell whether a particular branch is alive or dead by looking at the color just beneath the bark. Green means the branch is alive. Prune to keep all branches at least 12 inches away from the home's exterior.
Include the areas near the basement's window wells in your spring landscaping efforts. First, make sure that the ground slopes away from the wells and the house's foundation. If there is insufficient slope, add clay soil to build up the surfaces that are closest to the home's foundation and the window wells. Pack the clay and top it with a layer of black dirt. One way to help prevent debris from piling up inside of the window well itself is by installing a window grate or polycarbonate cover. A window grate helps to prevent large debris from falling in as well as improving the safety of your window wells. A polycarbonate cover is also a great option because by covering the entire well, virtually no debris are allowed to fall in. Both window grates and polycarbonate covers can be a great addition to any home.
There are several ways to ensure that the window wells blend smoothly with the rest of the landscaping in your front yard. You might choose to conceal the wells by planting deciduous shrubs around them. For this option, leave at least 12 inches of space between the outside of the wells and the expected growth of the plantings. Choose shrubs that grow only to medium height or less.
Another option is to create a flowerbed around the wells. Place landscaping stones next to the wells. Mulch between the plants, or surround individual plants with hardscaping. You also can use landscaping stones, pavers or other materials to create an interesting walkway that travels from the wells through the garden.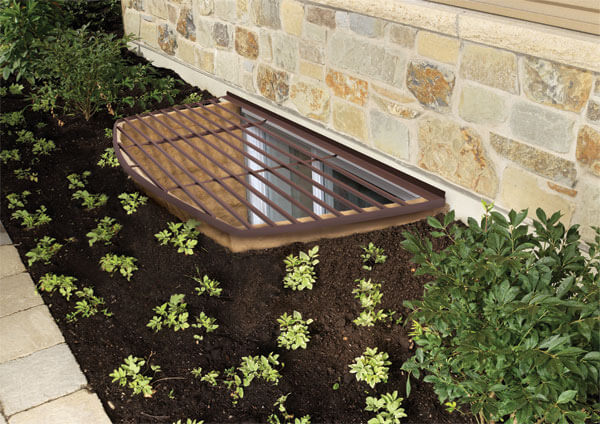 Select flowering plants, both annual and perennial, that will add color and complement the colors of your home's exterior. To find plants that require little care, talk with staff at your local greenhouse or nursery. Plants that are native to the area require less care than those that are imported. They usually have good resistance to pests and may do well without the addition of fertilizer to your yard's soil.
From the curb, look at your front yard with a critical eye to determine what more could be done to increase its attractiveness. You might choose to add mulch and lawn edging around your trees and shrubs. Perhaps the careful placement of a single lawn ornament or a wrought-iron fence would add a touch of elegance and increase curb appeal. You may prefer the addition of a unique water fountain and a bit of outdoor lighting. By adding individual touches to your spring landscaping, you express your unique tastes and create a yard with memorable curb appeal.